We apply our skills, knowledge and experience with a light hand but aim for profound impact.
Our work is based on our understanding of the environment and the needs of our clients.
THE CONSULTATION
Our initial call-out consultation is $550. We meet you 'on site' and learn as much as we can about your wishes – and needs – and about the site itself. We then provide a report and recommendation which might include a rough schematic. We can advise you if you need a more detailed design process and plan, and a cost and time estimate for this. The cost of the initial consultation will be deducted from any resulting body of work. We can tailor a design package or service to suit your budget and needs.
THE PROPOSAL
Once we have as much information as possible, we write a proposal to clarify the brief and detail the scope of work and associated fees to design your garden or landscape. This is the basis of all further work. The proposal is not the landscape design; it lets you know what steps we will go through in the design process. With timelines and costings outlined, we then move into the design phase.
THE LANDSCAPE OR GARDEN DESIGN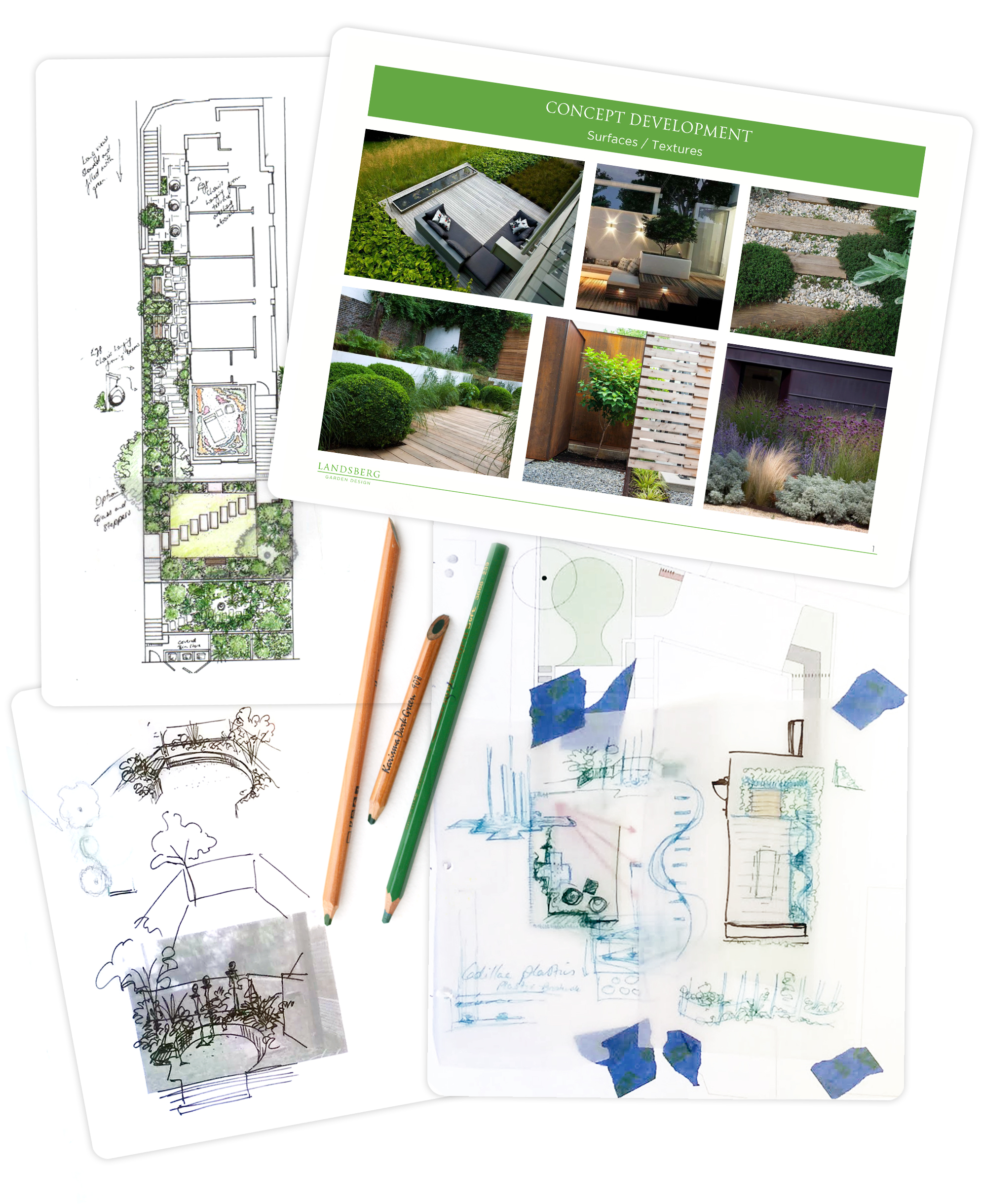 A topographical survey is necessary for every project to provide the base for all design work. You either provide us with one, or, for smaller gardens, we can undertake the survey ourselves (for larger gardens and landscapes we will commission one).

We get to know your land and everything that affects it:
• its environment - built and natural, historic and social
• its patterns - people, weather, traffic
• its spirit, or genus loci,
• the constraints on it imposed by councils, regulations, planning, budgets
• the opportunities and possibilities.
We work into this our understanding of your needs and what you hope to achieve in your landscape and garden; we consider everything it could be for you. The detailed design process is built on our research and a guiding concept or philosophy. We design places that are perfectly functional, address your requirements, and most of all, are inspiring and beautiful.

We discuss the initial concept design for a Master Plan with you and amend as you wish. We might use sketches and elevations to help explain the ideas.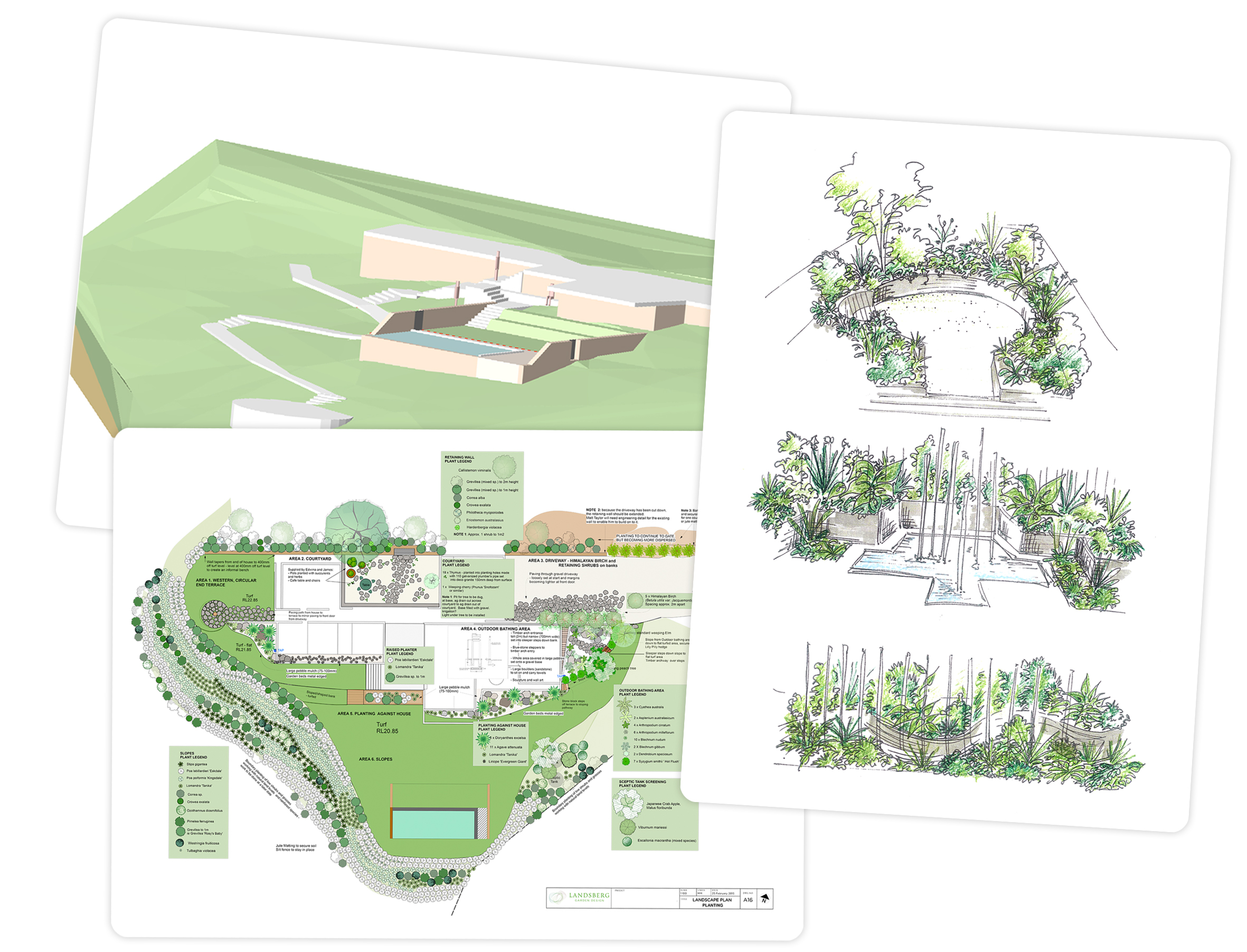 Once the concept designs are agreed upon, we draft the final Master Plan in fully scaled CAD drawings which include lighting plans, material suggestions, perspective drawings and elevations as necessary.
The planting plans are detailed and include schedules and notation as necessary. We provide a plant portfolio of the plants we are recommending to you, which tell you about each one. An average garden has between 20 and 30 species and each plant is chosen for its suitability to meet many criteria; soil, climate, size, flowering, shade, stabilization.
STAGE 4. SCOPE OF WORK, DOCUMENTATION, QUOTES & APPROVALS
The building of a project gets underway. Once the Master Plan and planting plans are agreed and signed off, we can provide a Scope of Work and technical construction details on which contractors provide quotes and then build. We can recommend and brief contractors for you.
STAGE 5. PROJECT CO-ORDINATION AND IMPLEMENTATION
Each contractor brought to the job will have a direct contractual relationship and liability with you. We coordinate, liaise and work to make sure that the project runs smoothly and that the garden or landscape is built to the highest standards. Being available and on site is critical to assist with problem solving, design consultation and ensuring every detail is built and installed as planned.
MAINTENANCE
When the project is finished, we discuss and can arrange aftercare and maintenance. We work with landscape building and maintenance contractors whose quality of work is known and trusted, and with who we have developed strong and close relationships. As each garden requires unique treatment, we stay with the project until its completion.
Garden services for real estate agents are available.